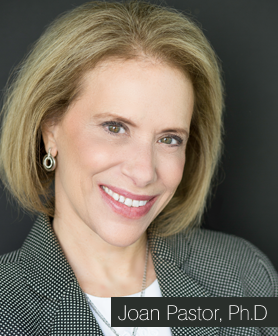 Improve Corporate Culture and Operations with JPA

Joan Pastor and her team provide comprehensive corporate governance consulting to guide you in establishing appropriate organization governing bodies, policies that balance power within the organization, and corporate guidelines to stay within both legal and ethical boundaries.  Our goal is to drive increased efficiency and profitability through optimum corporate governance.

View Joan's Recent Webinars
Information packed webinar presentations on Coaching, Leadership and Managing Emotions (as featured on JoanPastorPHD.com)
Unique Benefits Only From JPA

Governance consulting from a different point of view with focus on people and communications.

We'll create a governance advisory strategy based on the people and personalities you have in the organization.

Our experience directing dozens of organizations provides the background to help guide yours.

Each approach/strategy is custom designed to fit within your organizations framework and people.
Clients Succeed with Strategic Advice from JPA




Topical Content on Governance and Compliance
The Power of "What Is."
Introductory presentation from Author and Consultant Joan Pastor discusses how you contribute to your company and other relationships by discovering "what is." What tools can you use to add value and put your best foot forward and provide useful information and conversation to those that interact with you.
Joan provides informational and motivational guidance relating to governance managment and employees in a fun and interactive way. For more information on having Joan consult with you or speak at an event call: 310-892-0210
Areas of Interest from JPA